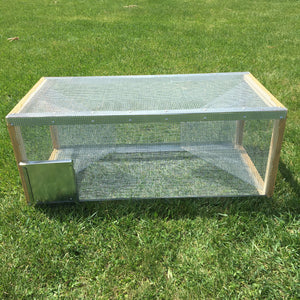 The Chub Trap is made with a wooden frame on each end. These ends make up the two funnels. The funnels are connected by a galvanized metal frame. It is made with quarter inch wire mesh. Each funnel slopes in from all four sides creating a slot that is 1/2 inch by approximately 5 inches. This slot can be widened very easily with your fingers if you wish to catch larger minnows or Chubs. It can be used in all bodies of water. It can also be used to trap crayfish, mud puppies, salamanders and all kinds of minnows.
Two Size Options available  
Product dimensions:
30" Chub - 30"L x 18"W x 15"H 1-Funnel
36" Chub - 36"L x 18"W x 15"H 2-Funnnel
SHIPPING INFORMATION:
Discounts Available at the shop. 3% credit card fee applies at the shop. Contact us to make arrangements.

FREE SHIPPING in the United States. Shipping to Canada has an extra charge.
Please see our Shipping Policy for current charges and estimated shipping times.
DISCLAIMER: You must check your state regulations regarding the trapping of minnows or other fish. In addition, your state may have size restrictions for personal use.